THE DRIVE IS GETTING SCARED A FILM by DUANE BROWN
:: News :: The Movie :: Soundtrack :: More photos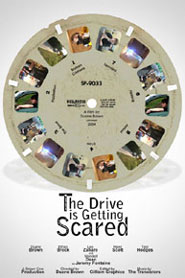 NEWS
:: September 2004 ::
:: The Drive is Getting Scared has been accepted to the New Orleans Film Festival.
Check out the link >> www.neworleansfilmfest.com

:: July 2004 ::
:: The Drive is Getting Scared, the third short film by Duane Brown, will premiere in downtown Augusta at Room 9, August 13th 2004.

:: June 2004 ::
:: The Drive is Getting Scared is being submitted to the Rome (GA) Film Festival and the New Orleans Film Festival, and possibly others. It will premiere at the only lounge in Augusta, GA-Room 9 on Broad Street. Admission will be free to the public and you must be 21 or older.

:: Be on the lookout for The Great Kentucky Goblin Spree.

_______________________________________________________________________________
THE MOVIE
Intended for festival submission, The Drive is Getting Scared tells the story of Stan, who is cursed with the redundancy of an everyday job until his friend, Leonard, calls him with a unique opportunity that ultimately ruins his career before it begins-but in a funny way. The flashbacks are told using a Viewmaster technique-a first in film.

Aside from Duane playing the role of Stan, the film also stars Ethan Brock, Leo Zahare, Reed Scott, Troy Hodges and Wendell Dean as Jeremy Fontaine. The film was edited by Stephen Gilliam of Gilliam Graphics, a computer neophyte and straight up pimp. A lot of the film was shot inside an actual camera store, but the really interesting parts were shot in a hotel room in North Carolina that hasn't been renovated since the late seventies.



This is Duane Brown's third short film. His others include Painting Anna and Watch Me, a film which drew unwanted attention.

"We made like four copies and distributed them around town. This was when Ethan and I used to work together. The film was like 10 minutes long, shot on really shitty video tape. It was about a guy who really didn't want to go to work, and he sits in front of the video camera and bitches and moans about his life and the things he covets and this goes on for ten minutes.

Then at the end he puts a bullet in a gun, spins the chamber, sticks it to his head and pulls the trigger. Now, if it kills him he doesn't have to endure going to work but if it doesn't, well, off to work he goes. So, needless to say it doesn't kill him, and he looks at the camera and says 'well, I guess I'm going to work'. So anyway, somebody recognizes Ethan in the tape and think it's a cry for help. They call the cops, who in turn are waiting for him when he gets to work and they question him and basically scare the shit out of him. He wouldn't talk to me for weeks. He still has the tape with the evidence sticker on it that he won't give back to me."
_________________________________________________________________________________________________________________

MUSIC BY THE TRANSISTORS
"I wanted a really retro, 70's feel to the film," explains Duane. "But a really, dirty, old man 70's feel. It just added to the whole atmosphere of the film."

This retro atmosphere kicks into high gear with the addition of The Transistors, a lounge band based out of Italy. Duane's original plan was to use a variety of music.

"I had enlisted some other bands to contribute to the film. When I initially approached ErMan about using music for the film I really intended on using one song. After listening to the record I was hooked, and decided I wanted use them exclusively. Their music just adds to the surreal quirkiness of the film."

_________________________________________________________________________________________________________________

MORE PHOTOS




>> Click here to see a large preview of the Movie Poster

All Photos courtesy by Duane Brown.